Diversity & Inclusion
Diversity of experience and thought is vital to the success of Invest NI. We welcome different strengths and perspectives to our friendly, flexible and inclusive culture. 
Our aim is for all our people to understand, value and show Diversity and Inclusion in how they work with each other and clients. We want to attract people who want to feel engaged and inspired.  We are committed to creating an inclusive workplace where team members are valued and respected for who they are and where they feel safe in bringing their whole selves to work.
Our Diversity & Inclusion Stronger Together Committee links our people to our Leadership team and our Board, ensuring that ideas and initiatives can be created and supported from the top.
Invest NI has signed Diversity Mark NI's Charter, and we currently hold its Bronze accreditation.
Connecting
Our people can connect through a range of Employee Connection Groups. These include:
Disability Network Group
Green Scene Environmental Group
STEM Group
LGBTQ+ Group
Professional Women's Group
Working Parents Group
These connections encourage our people to support each other, share ideas and experiences and promote greater Diversity & Inclusion across Invest NI globally. We want to make the vision for greater Diversity & Inclusion a reality.
Commitment
We are committed to supporting all aspects of diversity. This year, our commitment to encouraging women in leadership saw us marking International Women's Day with a webinar hosted by an external expert career coach. We are delighted that our Employee Connection Groups are being led by women from all grades and from all teams in Invest NI. We also provided 'Positive about Disability' training for our Disability Network. This year, we used national awareness days to share stories from across our global network to improve our knowledge and understanding of different cultures.
Join our team
If our culture sounds like a good fit for you, have a look at our current vacancies to see if there's a role for you.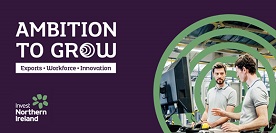 Ambition to Grow
Receive up to £45,000 in funding and Invest NI support.