Delivering for business and our economy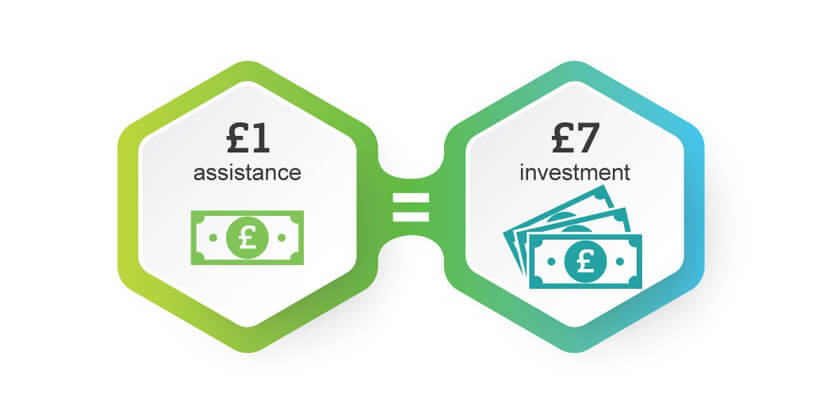 Every £1 of our assistance contributed towards £7 of investment in the local economy.
Our Impact
Our support to local companies and to attract external companies to set up here, will contribute towards £489m of investment in the Northern Ireland economy.
Our support for business growth comes in many forms:
professional, expert advice;

access to information, guidance and training through workshops, webinars and our free business resource

www.nibusinessinfo.co.uk

;

 

financial assistance to support investment in R&D, skills, exporting and job creation.
In 2022/23 we offered £73m of assistance to nearly 1,100 businesses right across Northern Ireland; provided expert advice to over 2,500 people through events and webinars; and hosted 2.3m visits to our free business resource nibusinessinfo.co.uk.
Our support helped companies export for the first time or reach new markets; invest in R&D and innovation; and invest in staff training and skills. We also helped companies create over 3,800 new jobs. 65% of which will be outside Belfast.
Regional impact
We worked with businesses in every council area right across Northern Ireland. We'll publish a full breakdown of regional support by council area soon, but in the meantime, here are some high-level figures:
Examples of projects we supported during 2022/23 include:
A Dynamic Test Centre by Thompson Aero Seating at its Banbridge Design & Engineering Centre
54 new jobs by P Mulrine & Sons at its new processing plant in Sion Mills
Increase Foods Connected Ltd external sales and create 45 new jobs in Derry
£4.8millon investment and 39 jobs by Newry based data analytics consultancy ISx4 
£2.2million investment by Kilrea based Hutchinson Engineering including 39 new jobs
We also launched Ambition to Grow to attract more companies to work with us for the first time and increase our regional impact. We offered £1.3million of funding to 37 export driven SMEs following the first call for applications. This support will help these companies to grow exports by £12million and create 154 new jobs.
International impact
We opened offices in six new locations and added additional resources to others to help more businesses to reach new and different markets. This expansion was made possible thanks to £8m of funding from the New Deal for Northern Ireland.
Our teams around the world help NI companies secure export deals. For example: our Regional Director in China helped Moy Park gain a Health Certificate to export to Mongolia. As a result, Moy Park has secured sales to the region of £6m over the next 5 years. Our newly established team in Seoul, Korea helped Belfast Distillery Company secure a distribution deal for 10,000 bottles of its McConnell's Irish Whisky.
Our international teams also help identify potential new investors, a highly competitive and often long process which, in some cases, can last years. Last year we successfully secured 27 new investors – including Harness and Insider Inc, two US companies that chose Northern Ireland due to the wealth of talent we have in software development.
Innovation is key to competitiveness
Innovation is a central pillar of the Department for the Economy's 10X Vision. On behalf of the Department we run Innovate NI to help increase awareness and understanding of innovation. Last year, through this scheme, we awarded 75 companies innovation accreditation.
We also offered Research & Development (R&D) assistance to 560 companies, ranging from support to develop new technology, to help towards medical research; and our Innovation Vouchers gave entrepreneurs and businesses access to specialist expert advice and expertise.
Investing in people
Alongside supporting companies to create over 3,800 new jobs, 65% of which will be outside Belfast, we also helped 148 companies invest £28m in the training and development of staff.
For example, we offered support to help FinTrU invest over £25m over the next four years leading to 300 new jobs in Londonderry and a significant investment in the skills of its Northern Ireland wide staff.
---
City & Growth Deals
Northern Ireland's four City and Growth deals will see £1.3bn of investment in transformative infrastructure projects covering every council area in Northern Ireland.
Whilst the deals are owned by councils, we are responsible for £650m of investment commitments across some 30 plus projects.
Supporting the success of these City & Growth deals will be a core activity for us in the coming years. 
Delivering a 10X economy
During the year we also began the journey of transforming Invest NI to be a leading economic development agency responsible for driving a high-performance Northern Ireland 10X economy.
Centred around innovation, sustainability and inclusivity, this transformation will include our programmes, our processes, our leadership and our culture to ensure we support businesses, both big and small and right across Northern Ireland.
---