Northern Ireland entrepreneurs' driving innovation in health care solutions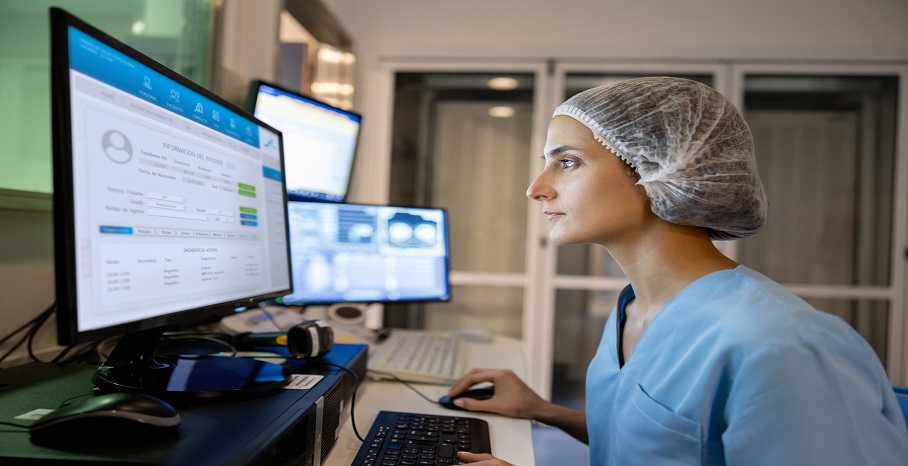 Launched in 2016, The NHS Clinical Entrepreneurship Programme (CEP) has proven to be a remarkable success in helping innovate and implement new initiatives within the National Health Service (NHS) in the United Kingdom (UK).
Open to clinical and non-clinical staff within the NHS it provides healthcare professionals with the support, skillset, and financial assistance to innovate and create new medical solutions, leading to improved processes and patient care. Recognising the importance of this programme, in 2022 Invest NI agreed to fund up to 10 Northern Ireland entrepreneurs to participate in the 12-month programme. 
Since 2022 Invest NI has funded 12 entrepreneurs from across the Health and Social Care Northern Ireland (HSCNI) system; including hospital doctors, GPs, nurses, social workers, dentists, and clinical psychologists. This has led to significant impact in attracting additional funding and new collaborations in health innovation in the region.
"In its first four years, the CEP supported 513 Clinical Entrepreneurs developing a range of innovations seeking to address various issues in the healthcare system."
Run by Anglia Ruskin University (ARU) the Programme is the biggest entrepreneurial workforce programme of its kind. Participants gain access to comprehensive support systems including mentorship, networking opportunities, and funding options. It has cultivated a culture of entrepreneurship within the NHS and nurturing a community of forward-thinking healthcare professionals aiming to better the system.

As participants of the Programme, many Northern Ireland healthcare professionals have taken their innovative, entrepreneurial ideas and turned them into ground-breaking solutions and businesses that are transforming patient care.

Consultant Nephrologist, Dr Michael Quinn was intrigued how data and digital technology could transform and improve the healthcare system. He founded the company Round Safely, which has developed a SaaS product that uses voice and video technologies to inform and educate clinicians and patients.

"As a pragmatist I became more and more drawn to building and trying to fix things with software. Our mission is to become the platform to handle sensitive information in a way that prioritises patients and makes healthcare feel a bit easier to navigate," explained Dr Michael Quinn.

A Consultant Clinical Psychologist within the Northern Health and Social Care Trust (NHSCT), Frances Duffy specialises in older people's mental health, including dementia and post diagnostic support.

She explains, "I heard about the CEP through an email in my Trust and thought it sounded like a good fit for my interests."
As someone passionate about finding innovate ways to understand and improve the experience of those who need support, Frances developed CLEAR Dementia Care©, an innovative model to help carers understand dementia and respond to changes in behaviour to reduce potential distress.

The tool has demonstrated improved clinical outcomes, increased clinical efficiency, and financial savings, as well as improved wellbeing for people with dementia.
These are just a couple examples of the incredible impact that the CEP has had and how it continues to help drive innovation within healthcare.
Key achievements accomplished by Northern Ireland participants include:
Addressing and developing innovations across mental health, cardiovascular disease, cancer, respiratory disease, maternity and neo natal

Several entrepreneurs receiving nominations and awards from Women in Business, Institute of Directors UK, and the Great British Entrepreneur Awards

One participant registering over 6,000 downloads and users of their app in 178 countries

One participant having their innovation adopted across 13 NHS trusts and 100 private sector practices, while another achieved adoption in five private sector practices, one NHS trust, two academic institutions and 26 GP Practices
Recognised both regionally and nationally, the programme continues to be a catalyst for start-up entrepreneurs. It is hoped that continued engagement between HSCNI and the Clinical Entrepreneurship Programme will inspire others to be more innovative and participate in the programme.
"By May 2022, it is estimated that support from CEP has helped to create 882 jobs and generate £37 million in cumulative sales in the UK."
Momentum of the Programme is building with evidence of positive innovation and adopted initiatives across Northern Ireland.  Invest NI is committed to advocating the Clinical Entrepreneurship Programme in partnership with the Health Innovation Research Alliance Northern Ireland (HIRANI) and supporting future innovators within the HSCNI.

Applications for the NHS Clinical Entrepreneurship Programme are currently closed.

For more information visit the NHS Clinical Entrepreneurship Programme webpage.