Horizon Europe
Horizon Europe is the EU's key funding programme for research and innovation with a budget of €95 billion. It tackles climate change, helps to achieve the UN's Sustainable Development Goals and boost the EU's competitiveness and growth.
The programme facilitates collaboration and strengthens the impact of research and innovation in developing, supporting and implementing EU policies while tackling global challenges. It supports creating better dispersing of excellent knowledge and technologies. 
It creates jobs, fully engages the EU's talent pool, boots economic growth, promotes industrial competitiveness and optimises investment impact within a strengthened European Research Area. Legal entities from the EU and Associated Countries can participate.
Read about how companies have benefited from previous EU funding
---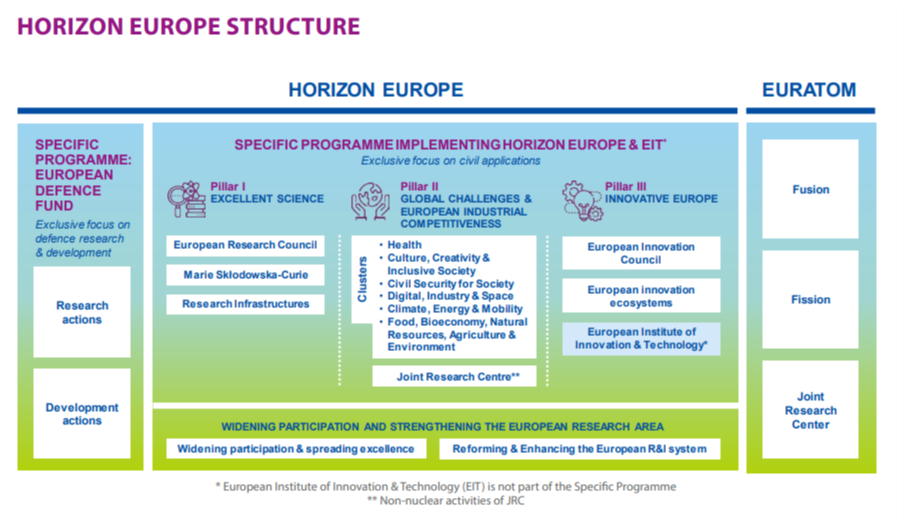 ---
The Excellent Science pillar aims to increase the EU's global scientific competitiveness. It supports frontier research projects defined and driven by top researchers themselves through the European Research Council, funds fellowships for experienced researchers, doctoral training networks and exchanges for researchers through Marie Sklodowska-Curie Actions, and invests in world-class research infrastructures.
The Global Challenges and European Industrial Competitiveness pillar supports research relating to societal challenges and reinforces technological and industrial capacities through clusters. Its sets EU-missions with ambitious goals tackling some of our biggest problems. It also includes activities pursued by the Joint Research Centre which supports EU and national policymakers with independent scientific evidence and technical support.
The Innovative Europe pillar aims to make Europe a front runner in market-creating innovation via the European Innovation Council. It also helps to develop the overall European Innovation landscape through the European Institute of Innovation and Technology (EIT) which fosters the integration of the knowledge triangle of education, research and innovation. 
Widening participation and strengthening the European Research Area (ERA) increase support to EU Member States in their efforts to make the most of national research and innovation potential.
How to apply
Work programmes announce the specific research and innovation areas that will get funded. The forthcoming calls for proposals will be accessible though the one-stop-shop funding and tenders portal. 
Each call gives precise information.
Discover the first steps to prepare your proposal and apply for EU research funding on the funding and tenders portal.
Many, but not all, Horizon Europe calls require a team of at least three partners from different countries. The call topics advise if partners are required. If you need help to identify a potential partner with particular competences, facilities or experience, use the partner search options.
Read more about finding a partner or applying as an individual on the Horizon Europe participant portal.
Once the deadline has passed, all proposals are evaluated by a panel of independent specialists in their fields. The panel checks each proposal against a list of criteria with a number of the top proposals invited to receive funding.
Once a proposal passes the evaluation stage (two to five months' duration), applicants are informed about the outcome. The European Commission then draws up a grant agreement with each successful participant. The grant agreement confirms what research and innovation activities will be undertaken. This includes the project duration, budget, rates and costs, the European Commission's contribution and all rights and obligations. The time limit for signing the grant agreements is between one and three months.
Generally, two-year work programmes announce the specific areas that will be funded by Horizon Europe. You can look out for them on the Funding and tenders opportunities portal as they will advise of the call opening and closing dates during the year. Each call topic gives detailed information on the challenges that the Commission would like you to address in your proposals.
The Funding and tenders opportunities portal is your entry point for electronic administration of EU-funded research and innovation projects and hosts the services for managing your proposals and projects throughout their lifecycle.
Explore all the related European Commission departments
The EU Framework Programme for Research and Innovation will be complemented by further measures to complete and further develop the European Research Area. These measures will aim at breaking down barriers to create a genuine single market for knowledge, research and innovation.
Additional links
UK Research and Innovation Horizon Europe: help for UK applicants
This short animated clip published by the European IPR Helpdesk sheds light on the importance of smart IP management in Horizon Europe. It gives an impression of how the services of the European IPR Helpdesk can support researchers and SMEs involved in Horizon Europe projects.
Case study | Find out how Redburn Solutions got involved in Horizon 2020
---
Not sure that this support is right for you? Contact us and we can explore options for your business together.
---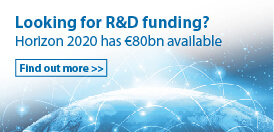 Horizon 2020
How to access €80 billion of funding for R&D
nibusinessinfo.co.uk guides