Research competitors and markets
Who, what, why, where and when? Make sure you have all the facts.
Where are the best markets for you? What are your competitors up to? Who would make reliable export partners? How can you save yourself time and money by using accurate market data?
Market research is critical to export success. We can help you to plan your export activities effectively by providing in-depth information and guidance on how to break into new markets.
Business Information Centre
Our Business Information Centre, at Invest NI's headquarters in Belfast, has extensive market research and worldwide company directories that you can use.
Our wide range of business information includes: details of trade fairs, guidance on import/export procedures, funding sources and legal agreements.
Video | Hear how Forest Feast benefited from utilising the Business Information Centre
---
Market research & company information databases
The Business Information Centre is open to visitors on Tuesdays and Thursdays, by appointment. Complete the enquiry form to tell us what support you need or to request an appointment. 
 
| Database | Subject | Geographic Coverage |
| --- | --- | --- |
| AMA | Building & construction reports including environmental. | UK and Europe |
| Cobra | Business information for start-up companies, including market and legal information. | UK |
| Construction Info Services | Construction project tracking. | Northern Ireland, Republic of Ireland |
| Euromonitor | Provides data & insights on industries, economies and consumers worldwide. | Worldwide |
| Frost & Sullivan | Industrial, energy, healthcare and ICT sectors. | Worldwide |
| IBIS World | UK & Ireland industry research reports. | UK & World |
| IGD | Strategies and operations of consumer goods retailers around the world. | Worldwide |
| Mintel | Food and drink, retail, e-commerce, leisure, lifestyles, technology and consumer. | UK & Ireland |
| Mintel Insights & Global New Products database (GNPD) | Global product innovation tool providing information on competitor activity, category awareness and idea generation. | Global |
| Plimsoll | Market reports and analysis across all sectors. | UK |
| Statista | Statistics portal covering 170 industries. | Worldwide |
---
Tenders Alert Service
Our Tenders Alert Service allows you to identify local, UK and European contract opportunities from a wide range of public sector organisations via a daily email alert service. It also has information about selling to government - it has compiled an NI Councils Procurement fact sheet giving contacts for buyers and brief data on how they buy goods and services.
For further information please refer to the Tenders Alert Service leaflet (PDF)
Key public sector tender information sources
Local and national government bodies buy billions of pounds worth of goods and services every year. The sources of information listed below can alert you to current tender opportunities, and inform them about how to win public sector business.
Northern Ireland

| Source | Description |
| --- | --- |
| Invest Northern Ireland Tenders Alert Service | The Tenders Alert Service is an annual subscription Service provided by Invest Northern Ireland (NI) that enables eligible NI businesses to identify local, UK, ROI, European and Global contract opportunities from a wide range of public sector organisations via a daily email alert. Further information can be obtained by emailing tenders@investni.com. |
| Construction Procurement Delivery (CPD) | CPD is the government body responsible for public procurement in Northern Ireland (NI). Most NI government tenders, whether local or regional, are published on this website. For Contact details for specific areas with CPD, click here. |
| eTendersNI | This portal advertises opportunities for providing goods, services and works to Northern Ireland government department, agencies and arms-length bodies. |
| eSourcing NI | eSourcing NI, the electronic tendering site which allows supplying organisations to take part in tender opportunities led by Northern Ireland Public Sector and Regulated Contracting Authorities, through which all procurement is channelled. |
| InterTradeIreland Go-2-Tender | InterTradeIreland's Go-2-Tender programme has been designed to help SMEs across Northern Ireland and Ireland to be more successful in bidding for and servicing public sector contracts. With our one-to-one, sector specific support and guidance, you can begin to take advantage of untapped opportunities in the all-island public procurement market. These workshops will provide you with the necessary skills to bid successfully for public sector contracts. |
Ireland

| Source | Description |
| --- | --- |
| Office of Government Procurement (OGP) | The OGP is responsible for sourcing all goods and services on behalf of the Public Service in Ireland, including Health, Defence, Education and Local Government. In addition, the OGP has full responsibility for procurement policy and procedures. |
| eTenders Procurement | e-Tenders is the Irish Government's electronic tendering platform administered by the Office of Government Procurement. The platform is the central facility for all public sector contracting authorities to advertise contract notices and award notices. For procurement news, guidance, legislation and circulars under the National Public Procurement Policy Framework. |
United Kingdom

| Source | Description |
| --- | --- |
| Scotland | This portal provides details of contracts with Scottish Local Authorities, NHS Scotland, the Scottish Government, Agencies and NDPBs, Higher and Further Education and Emergency Services, with the option of registering to receive free e-mail alerts. |
| Wales | This is the public sector procurement portal for Welsh suppliers and buyers. |
| Find a Tender | Find a Tender has replaced the EU's Tenders Electronic Daily from 1 January 2021 for high value contracts in the UK. |
| Contracts Finder | This provides information on contracts worth over £10,000 with the UK government and its agencies. |
| Network Rail | This provides contracts in pipeline work and Thames Link project work. |
| CompeteFor | This site advertises major tenders for Crossrail, the Metropolitan Police and London Boroughs. It is provided by BIP Solutions on behalf of the Mayor of London and Transport for London. |
| Ministry of Defence (MOD) | This portal provides access to MOD defence contracts. |
| Constructionline | This is a register of local and national pre-qualified construction and construction related services. |
The GOV.UK website has more links to UK tender sites. Contact us to get a more comprehensive document of UK tendering sources.
Europe

| Source | Description |
| --- | --- |
| Tenders Electronic Daily (TED) | Online version of the "Supplement to the Official Journal" of the European Union (EU), dedicated to European public procurement. It provides free access to business opportunities, updated 5 times a week with some 2000 public procurement notices from the EU, the European Economic Area and beyond. If you register with this website, you can set up your own search profile that will send you a daily email alert to tenders which match your search profile. |
---
Not sure that this support is right for you? Contact us and we can explore options for your business together.
Our support is subject to eligibility criteria.
---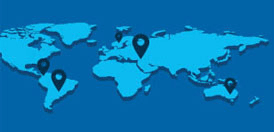 Essential Export Events
Browse the calendar of Invest NI trade missions and exhibitions